Facebook is rolling out their timeline view for all business pages on March 30th, 2012, for better or for worse. Here are the most important changes for people that are running a Facebook store or custom app on their business pages.
Upload a custom tab icon for your store
When installing the SolidShops app to run your Facebook store on your business page, you will see our default logo show up in your tab icons. Of course, you'll want to add your own icon to your tabs.
To do so, hover over the tab icon you want to change and click on "edit settings". That will bring up a settings screen where you can change the name of the tab and upload a custom icon. The recommended size for this icon is 111x74px.
The good news here is that you can create an icon that stands out and drives more users towards your Facebook store.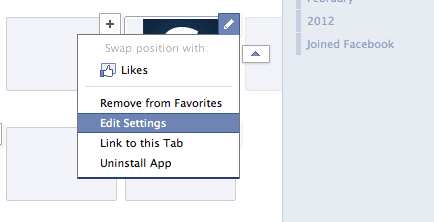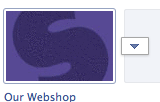 Changing the default landing page tab
Once you start using the Facebook timeline layout (and you will be forced to do so on March 30 if you haven't already) Facebook will not allow you to change the default landing page to any of your app tabs anymore. That is of course a clear disadvantage of the new timeline layout.
Not all hope is lost however, as you can still "pin" a post on your Page's wall. That way, you could actively promote a discount coupon and drive people towards your Facebook store.
To pin a post, simply click on the pencil icon next to any of your posts and select "Pin to Top".
Your available canvas width is now 780 pixels
We got used to building a Facebook store theme that would fit nicely inside the 520 pixels width of a Facebook wall. We now have more space available to build out pages inside of Facebook.
Your applications can now be up to 780 pixels wide, but we recommend using a responsive approach to designing your pages as you never know what Facebook will come up with next. If they one day decide to change the width to e.g. 1024 pixels, you'll be safe if you design with responsive web design principles in mind.
Add a nice cover photo, but don't use it to advertise promotions
With timeline you can now add a nice 851 x 315 pixel cover photo to your pages. That's great, but Facebook doesn't allow you to actively promote deals with this cover photo, so watch out how you you them.

Is timeline all that bad?
There's been a lot of commotion about the decision Facebook made to migrate all business pages to the new Timeline layout. Facebook has the power to do whatever they please and that's a shame but I guess we'll have to live with that if we want to do business on their platform.
On the other hand, the changes listed above do have some advantages. I believe that you can get really creative with the new large cover photo, combined with smart icons for your custom tabs/apps. That, combined with a larger canvas will definitely create opportunities for those looking to sell their products on Facebook.
We have already migrated our "Social theme" to support the Facebook timeline layout. Actually, we made it responsive so that it will work on any width. Install the new social theme from your store admin panel by going to "Design" and "Theme store". It's totally free to use and built upon so go nuts and show us what you made with it!
All pictures used in the example store above are made by Dharion
For even more tips and tricks to optimize the new Facebook timeline for your business, check out this comprehensive guide.