Howdy dear e-commerce enthusiast! You've probably come here because you are wondering when we will be going live or because you are eager to learn who is behind SolidShops.com.
Well look no further, as the answer to those and other common questions is just a few blog lines away.
I need to know! Why isn't SolidShops live yet?
We received this question about a trizillion times on Twitter so let's create some clarity here. As we are writing this post, we bow our heads in shame. We know we kept you waiting for SolidShops for an awful long time and here is why: we underestimated the development time of our automation processes and decided not take them lightly.
On top of that we wanted to include a sweet templating language from the beginning. As we are focusing on web designers for the greater part, we wanted to include the ability to build 100% custom and flexible templates right from the start. The templating language is in place, and is already awesome if you ask me (yes, I'm a web designer as well), but it took a while to put everything in place in a way that's useful to web designers.
Yes, we could have gone live earlier – you know: release early, release often – but we want you to enjoy our service from the beginning, without the risk of loosing any data and with as little downtime as possible.
Writing scripts to generate backups and restore them in case of system failures takes up a considerable amount of time, more time than we thought it would. The same is true for the deployment processes that allow us to safely release updates to the application. While these flows are now in place, we still have a fair amount of testing and fine tuning ahead of us.
These processes that we are building right now will be the foundation of SolidShops from the start and we need them to be a solid as possible to take it from there.
Who are you guys, who's behind SolidShops.com?
Perhaps not the most interesting info for you, but a much asked one nonetheless. Just like we love to know our clients, we'd like you to know who you are doing business with.  After all, we're in this e-commerce business together.
In short: we are Joris & Dries [what's up!?], Dries & Joris[hi!]. We are two web development junkies and since high school (that's some 10 years ago if you might ask yourself when that was) we have been developing web sites and applications for ourselves and for clients.
Dries currently still works as an SAP consultant and integrator while I (Joris, that's me) am teaching about web standards and development to my students in college. Besides teaching and developing SolidShops with Dries, I also do the occasional freelance work for my own clients.
Over the past 1 to 2 years, we have been working on our dream app, mostly on weekends and in the late hours of the day. Not only is it our dream app because we have been breathing SolidShops for the past 20 months. Besides that, we're especially thrilled about releasing our work to you so a lot of small to medium online shops can open their doors at low cost while having a flexible web application at their fingertips.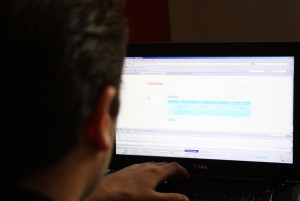 What is the current project status?
Currently our entire flows are set up the way we want them to operate. A small number of early testers have gone through the whole process of signing up, creating and configuring a store and creating orders through them. We are not waiting for the application to be *perfect* before launching, because we'll be iterating continuously to make the application better based on your feedback. We do take our time to build what is absolutely necessary for you to get started with a web shop for you or your clients.
When will SolidShops go live? Please tell me!

We are planning to go live on – oh wait, we can't tell you yet. We'll go live when we are ready for it. What we can say is that we'll launch our beta before December 2010. All beta subscribers will be notified of their account activation automatically. If you did not subscribe yet for an early account, please do so now.
Before launching to a greater audience, we have been building the application with two people only, mostly in hour spare time after our day jobs. At this point we also have two persons ready who will be assisting in delivering support.
We probably took more time to deliver the app than large companies with millions of venture capital behind them would have done, but look at it this way: we never took any capital, we are our only investors, we focus on what we think is important for our clients and not what an investor thinks is important. We are building and scaling SolidShops at a healthy pace and are here to stay. No rush jobs, no half work.
What features are on the road map?
Before anything else we'll be making sure that the base application is running smoothly and securely.
When that's taken care of, we will focus on the features and changes that you – yes you there, with the fancy keyboard – ask us. So let us know if you have any feedback that can make SolidShops work better for you.
Although this can change depending on what our customers want, possible features that are already on top of our mind are the following:
SolidShops API
integration with third party apps like email marketing, visitor analytics, …
more advanced reports
support for more payment providers besides PayPal
a mobile version of our app so you can manage your store on the road
Again, we are sorry for the long wait, but we'll make sure it will be worth it in the long run!