So you've decided to go with SolidShops to set up your online store. A wise move indeed.But why do you still need a PayPal account to receive payments you might ask? Well, simply because you need a way to safely receive money on to your bank account. That's where PayPal comes in.
PayPal – which is owned by eBay – is the preferred way of paying online for most people. Even if someone doesn't have a PayPal account, they can just pay in your store with any supported credit card, without the need to create a PayPal account.
The best way to go is to create a PayPal Business account. There is no monthly fee for these accounts, but PayPal does charge you a certain percentage and cost per order you get. These typically range somewhere between 1% to 3% plus a few cents per transaction. Check out the "fees" link at the bottom of the PayPal website for exact details.
While we dream of a world where these kind of middle-men services don't charge a thing for their services, in reality most of them still do. Unlike many of our competitors, SolidShops itself will never charge you a commission per sale.
Follow the steps below to create and configure a PayPal account and link it to your SolidShops store. Let us know if you have any questions in the comments or through the support page in your account.
1. Create a PayPal Premier or Business account
Start on the PayPal website and click on the Sign Up link.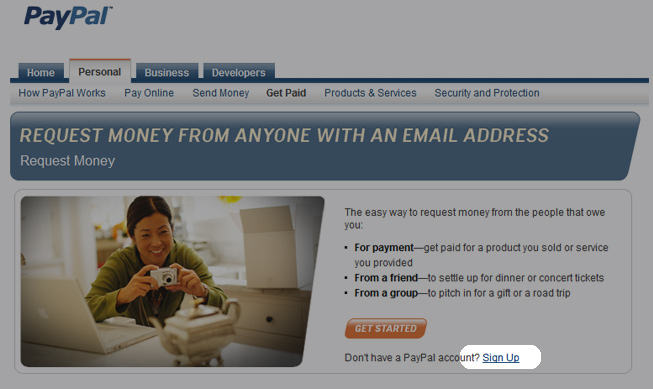 2. Select region, then create a "Business Account"
While the personal or premier account types are viable options as well, they do not support payments without a PayPal account. When you select a Business account, you will be able to receive payments from clients by credit card, without the need for them to create a PayPal account.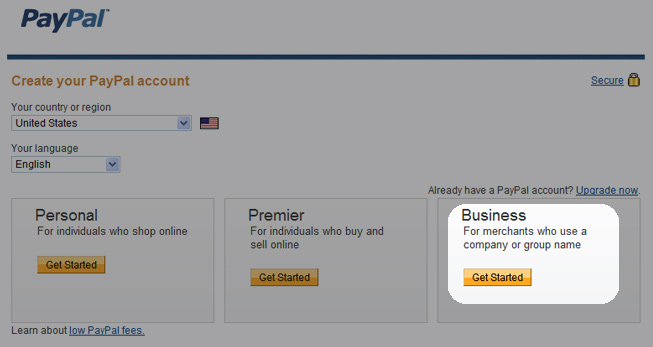 After selecting the Business plan, fill out the PayPal registration form to complete your registration.
3. Add "Website Payments Standard" to your payment methods
You will be receiving payments by credit card by using Paypal's "Website Payments Standard" method. Please select this method for your business by following the following steps.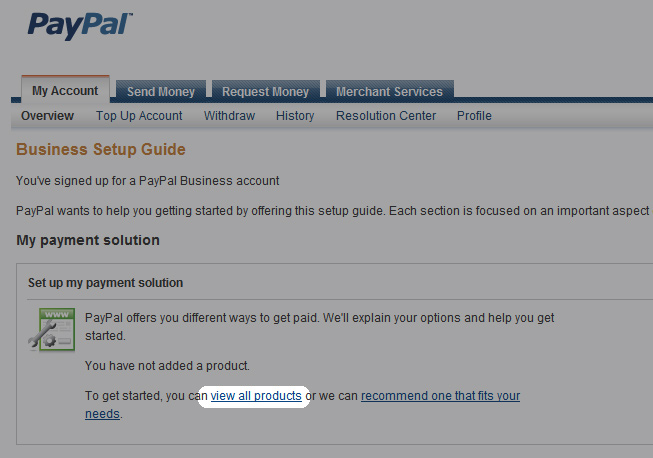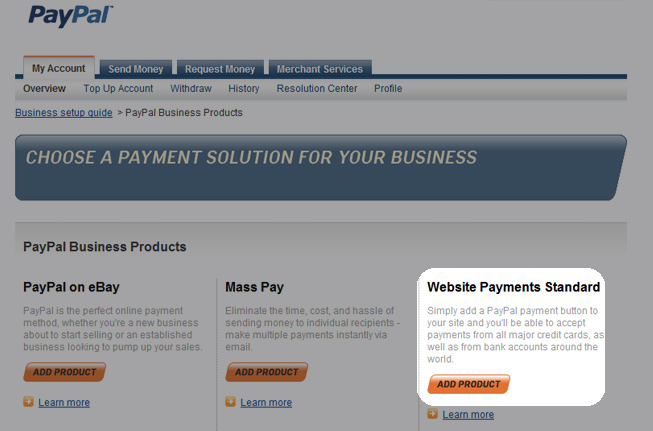 4. Link your PayPal account to SolidShops and you are all set
Now that you added Website Payments Standard to your payments methods,  you can link up your PayPal account to your SolidShops store by just hooking up your PayPal email address, like this:
Log in to your SolidShops store and go to the "Settings" tab where you can click on the "Payments" link. Here you can simply connect your PayPal account to your SolidShops store. Your clients will now be able to pay using credit cards or using a PayPal account.