It's been another two weeks since our last deployment so here we go: new fixes and new features for all our users. The following has been implemented:
Uploading of favicon.ico is now possible through the assets manager.
You can now translate your complete checkout process into Dutch.
Added documentation to the help pages on how to build a search form.
You can now edit source code of your page and product descriptions.
A small CSS bug was fixed to correctly mark up odd and even rows in a table.
When adding shipping rules, your last base unit (weight/price/…) will be remembered.
Images of your store managers are now shown next to recent actions in the dashboard.
Swedish Crown is now a supported currency. Contact us if you require more currencies.
There was a typo in a checkout error message which has been fixed.
When adding variants, the currency code sometimes didn't show up. Now it does.
A new filter has been added to the Solid template language to format your numbers.
Here's an example on how you can use the new currency filter. We have updated all user templates automatically with this new filter.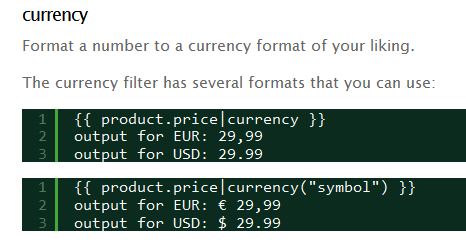 That's it for this release. We focused mostly on bringing translations to the checkout process, as this was the most requested feature up to now. We'll be working on more localization features for the next release. Let us know if you have any suggestions on how we can make SolidShops an even better platform for building unique online stores.
Thanks for the feedback and support, it's been an amazing upstart so far, thanks to all of you!