Today we are happy to announce a major update to the SolidShops application, packing some exciting new features. Let's start of with the biggest one first: Facebook Stores.
Facebook Stores, included in all plans
From now on you can build Facebook stores for your clients, with your own html and css templates. From the start, we focused on making our app as flexible as possible for web designers and we do so by providing you an easy way to create 100% custom themes for your clients, even on Facebook.
We also ship a Facebook-optimized theme in our new theme store (more on that below) to get you started right away. Exact details on how to set up your own Facebook store can be found in the documentation.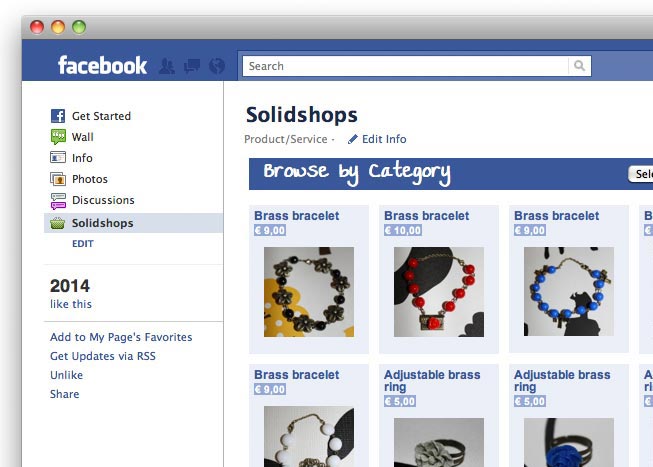 Theme store
Also new is the theme store. To start with, we have added one theme to the theme store called "Social" which is a theme optimized for use in Facebook stores. The width is exactly 520 pixels wide, so that it fits perfectly into the Facebook stream.
If you are a web designer and you have a cool theme you want to ship in our theme store, feel free to get in touch with us about that. We're actively looking out for nice themes to ship in the store.
To install a theme, simply click the "install" button and you're ready to roll.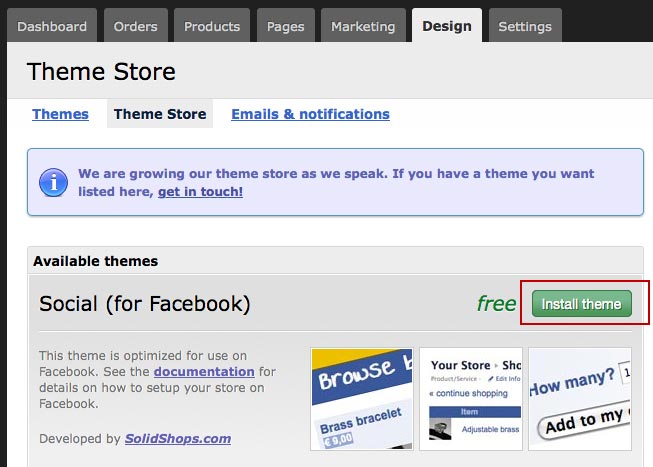 Other updates
We've implemented a couple of useful new filters:
excerpt filter: enables you to show only excerpts of your product descriptions
random filter: generates random numbers, which enables cool stuff like this
striptags filter: strip html from strings, useful for creating clean descriptions for SEO purposes
stripwhitespace filter: strips all excess whitespace from a string
new currency supported: Malaysian Ringgit
I hope you guys like this new release and start building Facebook stores for your clients like crazy! Let us know if you have a Facebook store live on the Solidshops platform, we're really curious to see what you all come up with! Enjoy the update everyone and have a nice weekend.