Hello everyone. As you will probably know we made a promise last year that we would consistently deploy a new version of the SolidShops software every two weeks.
We haven't missed one deployment since then and after one year of implementing new features and bug fixes, we're going to tweak our deployment process a bit. More about this later in this post, let's first see what has been improved in SolidShops version 1.3.5.
New feature: customizable PDF invoices
We have one clear goal: to be the most flexible and user friendly e-commerce platform out there for anyone who's building professional online stores. We keep that goal in mind all the time when we evaluate wether or not to include a new feature in the software. PDF invoices have been requested by a number of users in the past few months and we agreed that this was a very nice feature to offer.
There was only one side-note: we wanted the PDF invoices to be 100% flexible and customizable, since we're here for web designers and other creative creatures. Anyone can now build an invoice in HTML and CSS. Combined with our Solid template language you have a 100% flexible way of automatically generating PDF invoices from within your admin panel.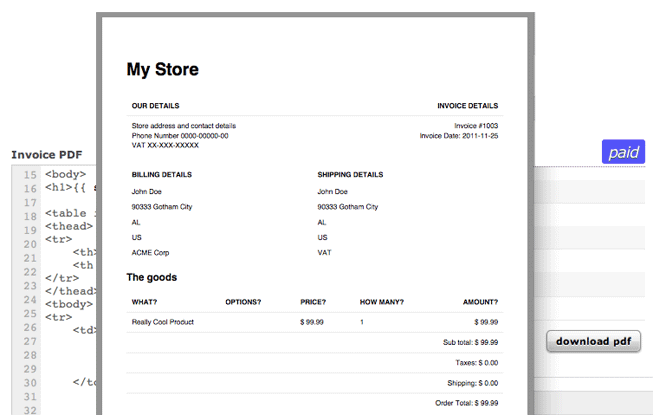 To customize the layout of your PDF invoices you can log in to your store and go to "Design" / "Invoice PDF". There you can use all the available variables from the template language, together with your own CSS and HTML. Just try to keep things simple as the process of generating a PDF is not a simple task to do. One big drawback is that the "float" CSS property is currently not supported (sorry about that, but PDF's aren't shiny new browsers to say the least), but other than that, you will see that you can get some pretty invoices printed quickly.
To generate the PDF itself, just open up one of your orders in your store and click the "download PDF" link. That will generate a PDF invoice based on the current order data and your invoice html template. Simple, yet flexible.
Some minor features and bugfixes have also been implemented in this release:
support for Indonesian language in the checkout process
we found a bug in the code editor's "toggle fullscreen" option, this has been resolved
for easier template editing, we now show the theme + template name (Thanks Pascal)
We're changing our deployment frequency
What we've learned in the past year is that a bi-weekly deployment promise forces you to get your bug fixes and new features out there on a predictable basis. We've been able to release and deploy features that were most important, while pushing other features to a future date. The ability to focus on what matters is truly the most important advantage we've experienced from practicing this deployment habit.
Now that we have implemented the core functionality we need for the future, we are stopping the bi-weekly release cycle and will deploy new versions of the software when the time is right. This doesn't mean that we'll be deploying less or less frequent. This does mean that we're making a mental switch to now focus on a number of larger improvements to the software that will require more than two weeks of work before we can actually release them for our users.
Keep filing bugs if you can find one and keep letting us know what you guys and gals need to improve the software. We'll continuously make the software better  like we've done from the beginning and that's a promise. It's been an amazing first year and there's plenty more to come.
Until next time friends!