Because we have been restructuring a lot in the SolidShops project, this has been a major milestone release for us!
We updated our team, started a whole new company, created an invoicing workflow that works for all kind of customers, significantly improved our servers, increased the storage capacity of our pricing plans and last but certainly not least added some features and fixed some bugs !
Abandoned orders
One of the small new features that has been requested a lot is the ability to get a grip on those abandoned shopping carts. This can happen when a customers completes the checkout page but decides not to go through with the payment. From now on you can perform a search for these kind of orders and print the details.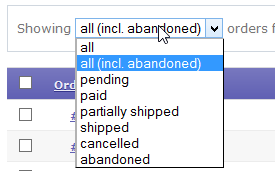 No shipping cost for specific products
Another small feature that has been added to this release is the option not to charge shipping costs for a specific product. Some of our customers, for example, need to give out gift cards or sell (digital) goods that don't come with an additional shipping cost.
So from now on, you can specify for each product whether shipping costs need to be applied or not.

Added MultiSafePay as a payment provider
After some calls with MultiSafePay we decided to add the "fastcheckout" and "connect" payment gateway to SolidShops.
More goodies!
Since this is quite a big milestone for us, we have increased(x10) the diskspace for all pricing plans and we have doubled our server capacity.
As we really want to give you the best e-commerce experience, please keep sending us your feedback!