We like to know our customers and we love to introduce them to the world as well. That's why we try to interview one of our clients on a monthly basis.
Last month, we spoke to creative all-rounder Jeroen from Karb and today we've had the chance to talk to one of our most passionate clients: Michel from Webnology. Michel runs his own web design and development company and builds clean & elegant online solutions for his clients.
We've asked Michel a few questions in order to find out why and how he works with SolidShops.
Can you tell us a little bit about Webnology?
Webnology is a small Belgian-based web design agency. We're 2 full timers and about 4 freelancers, depending on the size and type of the projects we take on. We focus on Expression Engine based websites, and small eCommerce sites.
We also have a few side projects running here in Belgium, like iBeauty and HappyMails. iBeauty is a solution for beauty salons, and HappyMails is an app that delivers promotions to your customers on their birthdays.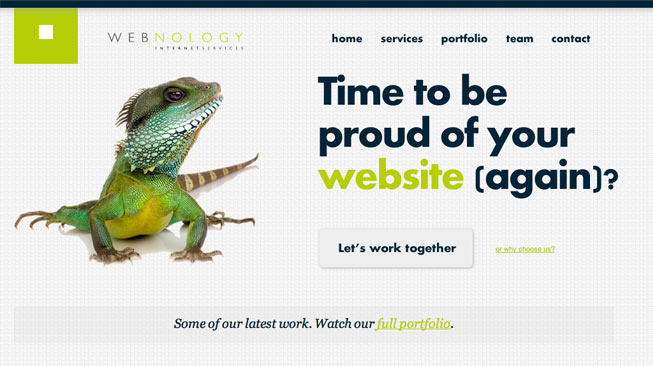 When we design or develop websites, we know that it's not about us. It's not even about the client. It's about the client's clients.
What's the biggest advantage of using SolidShops for your company?
The main advantage for us is that SolidShops is easy to set up, without losing flexibility. We really enjoy the fast and friendly customer support we get from you guys. Within an hour you fixed all problems we've contacted you about, if not faster. Magento and OSCommerce are way too bloated for us and our clients.
How about your own clients, what's the advantage of using SolidShops for them?
Let's take the store we built for Koffie OR, a very nice coffee shop in Ghent. They serve and blend great coffee, but unfortunately they don't have the same budgets like Illy or Nespresso, so we needed to look for another kind of eCommerce platform.
SolidShops was the perfect fit for us and them. Products and categories can be set up very easily, the store design is very customizable and on top of that, SolidShops is even a perfect fit for stores with smaller budgets.
– Michel Smekens –
Koffie OR store impressions
Are you also a proud SolidShops user, like Webnology?
Then get in touch with us so that we can get to know you better. We'd love to feature you in our next interview series!