Getting Started
I have signed up, now what?
After signing up, you can set your currency and timezone to your own preferences. You can do so by navigating to your general settings as follows:

On the general settings page you are able to set your "Currency and Units" as well as "Date and Time Format" preferences. Just pick the settings that appear right for your store. We are based in Belgium and would like to use European notation for time and currency so we used the settings below.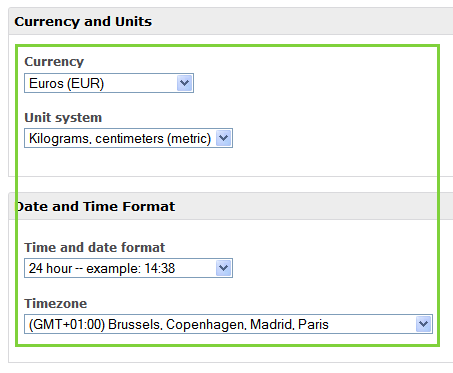 After setting your general preferences, work your way through the checklist we have set up on the right side of your admin screen:
The last item on the checklist is "Verify email address". Go to your email inbox and check the email you have received from us when signing up. The email will include a link that can be used to confirm your email identity. If you cannot click on the link, copy and paste the link in your web browser to confirm your email identity.

Other tasks in the checklist include setting shipping rates and setting payment options.