Manage products and track orders, also on your mobile.
As a store owner, you need an easy way to manage products and to track orders.
Even when you're on the road, you'll never have to miss another order.
User friendly all the way.
Great, let's see some pricing »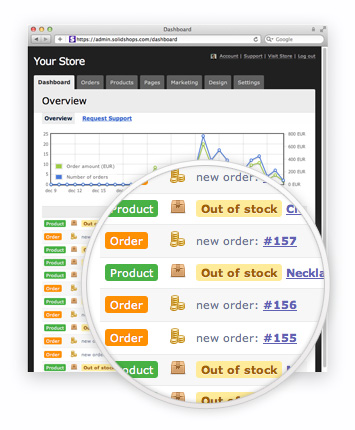 Check orders on your mobile

Imagine missing an important order because you were away from your computer.

Our mobile web application allows you to check your orders on the go, anytime, anywhere.

Works on any modern mobile browser by navigating to http://m.solidshops.com.

Downloadable invoices

Invoicing can be a time consuming task. Our customizable and downloadable invoices can be a huge time saver.

Whenever a new order comes in, you'll have an invoice that's ready to print out.

Easily manage products

Adding products is as easy as composing an email message. We've spent a lot of time on making the application as user friendly as possible.

Oh, you want to manage complex products with different options like color, size, fabric?

No problem boss, you can do that as well.

All popular payment methods available via plug & play

We support PayPal payments standard, Authorize, Ogone, Google Checkout, Sisow, 2Checkout, Mollie, MultiSafePay, manual bank transfer, cheques, in-store pickup and more.